Gerald McCoy Talks Behind-The-Scenes Jameis
June 13th, 2015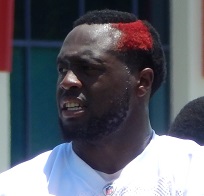 You've already heard what Lavonte David just said about the Buccaneers' locker room needing Jameis Winston's influence.
Today, Gerald McCoy checked in.
Hosting a kids football camp at his hometown Oklahoma middle school, McCoy was asked about America's Quarterback and passionately explained that Jameis is a very steady force at work, almost like a young cougar sizing up his next kill.
"Jameis has all the tools necessary to be an elite quarterback. He's just going to have to put the work in, which he's doing," McCoy told KFOR-TV in Oklahoma today. "Jameis is not over the top, you know, everybody says he's just such a great leader. He's not being over the top. He's doing all the right things. He's being a rookie. He's not talking a lot. He's listening to the vets. He's learning. He's sitting back and just playing his role. And that's what's going to make him great. When he gets put in that leadership role, he's going to be ready."
Bucs fans should sleep very well tonight.