Jameis Winston's Other Offensive Coordinator
May 12th, 2015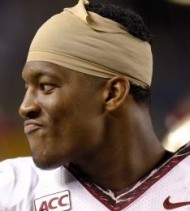 Jameis Winston's counterclaim against the woman accusing him of sexual assault is anything but typical.
Sam Harden, an accomplished attorney at Metcalf-Harden on Kennedy Boulevard in Tampa, has offered perspective on the civil counterclaim filed Friday by Jameis and his legal team. (Joe suggests you click through the link.)
Instead of just doing the typical "deny, deny, deny" defensive filings are known for, Winston's lawyers go on the offensive. They use about 17 pages to provide a "preliminary statement" bashing Erica Kinsman's claims against Winston and calling her a liar. Usually the introduction paragraph to an answer filed with the court reads like this: "COMES NOW so-and-so, by and through the undersigned attorneys, and files this, his Answer and Affirmative Defenses to Plaintiff's Complaint, and states as follows:". None of that here – Winston's attorneys come out swinging:

"Ms. Kinsman is motivated by the most insidious objectives — greed."

"She has mounted a false and vicious media campaign to vilify Mr. Winston with the objective of getting him to pay her to go away."

"Kinsman simply told another new lie."

"Kinsman has taken her story out on six(6) test drives, adjusting it each time a lie is exposed and debunked."

It seems that Winston's attorneys are using the first opportunity they can to show the judge (and the media, the public, and the potential jury pool) exactly what they think about this lawsuit filed against their client.
Again, there's more via the link above.
For Joe, it's interesting to note that Jameis is not trying to avoid the distraction a suit worded like this was going to cause. Also, his aggressive offensive stance, one he's certainly entitled to, tells Bucs fans and the world that Jameis is playing to win, not sweep anything under the rug.
Joe believes this is an extension of who Jameis is.
Memo to Lovie Smith: Jameis is not the guy you get in the red zone and ask to hand off eight consecutive times. Young Jameis plays to win.