Countdown: Top 30 Buccaneers Mysteries Of 2014 – No. 28
February 3rd, 2015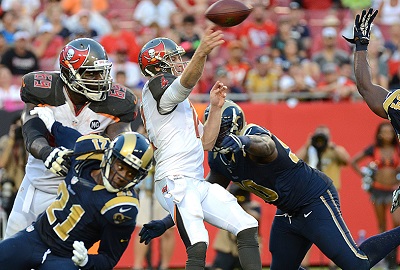 In many ways, Tampa Bay's 2014 season was more bizarre than the MRSA-infected, quarterback-gone-mental, Fire-Schiano-billboards campaign of 2013.
There were plenty of real Bucs mysteries last year, and Joe's revisiting the most interesting of the bunch.
No. 28 – Eight consecutive runs in red zone vs. Rams.
Joe still has cranial lumps from the aftermath of the Bucs running on 3rd-and-7 from the 9-yard-line against the Rams in Week 2. That highlighted eight consecutive red-zone runs that afternoon.
No, the red zone runs weren't working so well, and the 3rd-and-7 call was the final play of the third quarter with the Bucs leading 14-13. The subsequent short field goal was blocked.
The mysterious stretch came after Josh McCown threw one of his famous Pop Warner interceptions in the red zone. But Lovie Smith says he never lost faith in McCown. Yeah, right.
And former playcaller Marcus Arroyo said the Bucs were just taking what the defense gave them. Sure you were, Marcus.
Remember the data on teams running on 3rd-and-7 in the red zone? It doesn't happen.
What compounds this mystery is Lovie spent much of the rest of the season frustrated by the Bucs not running the ball enough, as if he had no say in the offense.
No. 29 — Leaky Sean Glennon
No. 30 – Jorvorskie Lane