"Can You Do Some Extra?"
May 12th, 2015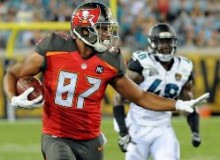 Josh Freeman was gifted a reliable, sure-handed and extremely talented tight end when he was a rookie.
Say what you want about Sgt. Vaseline, but Kellen Winslow never missed a game in a Bucs uniform, caught 70+ balls a year and was a key factor in Freeman developing into a borderline superstar in 2010, at just 22 years old.
That brings Joe to young Jameis Winston. Will the Buccaneers provide their franchise quarterback with the same type of weapon?
The only guy to fill that role is second-year tight end Austin Seferian-Jenkins. He's the manbeast athlete, a Dunkaneer who couldn't stay healthy last year.
Yesterday, Seferian-Jenkins told Joe and other media that he will, in fact, stay healthy in 2015. And he's learned about caring for his body outside of One Buc Palace.
"You can do the stuff at the facility; everyone does stuff at the facility. But when you leave, can you do some extra? Extra stretching, extra exercises, different, you know, get yourself a machine that helps you recover in your legs," Seferian-Jenkins said. "Different little things you can do to get that little more advantage so you can recover a little more for the next day. And I think taking advantage of that in the offseason, I've learned. I have great veterans like Vincent Jackson and Logan Mankins that have helped me and put me on the right track."
Hearing this left Joe feeling great and feeling nauseous.
It's awesome that Seferian-Jenkins is learning early how to take care of his body in an extreme fashion. But it's troubling that a 22-year-old is even thinking this way. Seferian-Jenkins entered minicamp coming off foot surgery. He then had a serious ankle sprain on opening day, followed by other issues, including a back problem that ended his season.
Seferian-Jenkins stands 6-5, 260 pounds. Joe's always fearful for big young dudes with foot and back issues. They often become chronic problems. Former Bucs tight end Dave Moore expressed the same concerns on the Buccaneers Radio Network last year.
Watch all of Seferian-Jenkins' media session below.