"Living And Dying With Every Single Throw"
May 12th, 2015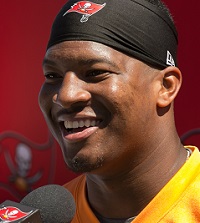 Uh, oh. Joe's got more practice video!
This time it comes courtesy of the Buccaneers on YouTube.
Official team insider Scott Smith paints the practice-field picture of Jameis Winston being scrutinized at extraordinarily levels — "living and dying with every single throw" — and he shares intelligence on the latest round of tryout-player signings following rookie minicamp.
Enjoy.