Mike Evans Approved
April 30th, 2015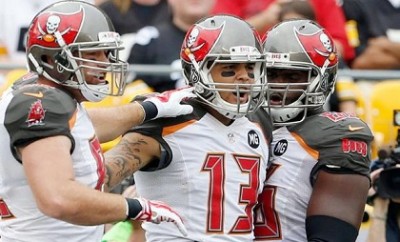 Check your damn pulse if you're not jacked up by the thought of Jameis Winston throwing balls to 1000-yard receiver Mike Evans.
Both are 21 years old!
Joe's been hot in the pants about this combination every since Lovie Smith friend Kevin Sumlin, the Texas A&M head coach, hopped on BSPN and proclaimed — on January 7 — that he knows Evans would love to have Winston be his quarterback.
Keep in mind Sumlin doesn't blow a bunch of hot air, and he's a friend of Lovie Smith.
It was Sumlin's recommendation (for one of his 2013 stars) that played a huge role in the Bucs drafting Evans.
Joe realizes leaky, sleepy Josh Freeman and mattress-in-the-yard Mike Williams were a sizzling NFL combination in Williams' rookie year, Freeman's second season. They set a high bar — on a winning team. But the new dynamic duo has the skills and potential to blow them away.