Standing Behind A Jameis Super Bowl Call
April 30th, 2015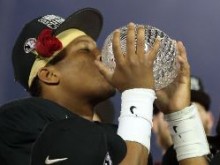 A Bucs icon who knows Jameis Winston and family well put a bold Winston prediction out there in November, long before Tampa Bay locked up the No. 1 overall pick.
That guy hasn't wavered one bit.
He was back on SiriusXM NFL Radio this week standing behind his claim that Winston will lead his next team to the Super Bowl, without question.
Joe's talking about Gene Deckerhoff, the guy who's been calling Bucs games and Florida State games on radio for decades. Here are the very telling words Deckerhoff uttered back in November on Chicago radio AM-1000.
"Jameis Winston has never been charged with a crime. He has never been arrested. He has won 23 consecutive games, every game he has started. He is a leader in the clubhouse on the baseball team. He is a team leader in the locker room on the football team. Yes, he did win the Heisman trophy a year ago when he led his team, as a freshman, to a national championship. All the kid does is win.

"He's been honored as much as any player in the history of college football, at least to this point in his career. And yet he is probably the most maligned and the most hated guy in a college uniform.

"I will say this: I've been around Jameis. I've been around his family. He goes to class. He's a 3.0 or better grade point average. He rides a bicycle to class. He is the quintessential student athlete. I'm very proud that Jameis Winston is the quarterback of the Florida State Seminoles.

"I'll promise you this. He will win a Super Bowl for whichever team that drafts him in the National Football League."
This week, Deckerhoff talked in greater detail about Winston's extraordinary leadership skills and proficiency. Deckerhoff, who also calls FSU basketball games, said he's never seen anything like it at the college level. And Deckerhoff repeated the Super Bowl take and said fans of Winston's new team will be wowed by his sheer talent.
It's a special night. So Joe's going to join in for a bit with the Super Bowl fantasy.