Mike Evans "Would Love To Have" Winston
January 7th, 2015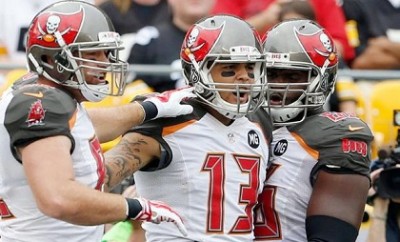 A mentor of Mike Evans says the Bucs' star rookie has a strong opinion on Florida State quarterback Jameis Winston.
For those who missed it earlier, BSPN delivered word from Winston's father that Winston will declare for the NFL Draft today and not stay in school. You can read about that here.
After learning of the report, Joe did a rare thing: Joe turned on BSPN. And on the tube was a roundtable of experts chatting about how Winston is NFL-ready with his mad skills.
One of the dudes talking was offensive guru and Texas A&M head coach Kevin Sumlin, who coached Mike Evans last year.
Sumlin, who has long lauded Evans, closed the Winston segment as follows: "I know this. Mike Evans would love to have him."
Sumlin isn't some sort of blowhard headline grabber. He's a friend of Lovie Smith, and Joe suspects that comment was the real deal.
Evans is just 4 1/2 months older than Winston. How cool would it be to have Vincent Jackson mentoring those two young men?