ESPN Timing Confirms Marcus Mariota's Dead-Fish Personality
April 7th, 2015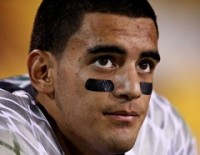 Whaddya know, the famous Gruden QB Camp makes its 2015 debut on ESPN2 tonight at 7 p.m.
Oregon quarterback Marcus Mariota is the opening episode, which lets you know just how uninteresting the session will be.
ESPN is all about making money and scoring ratings. So Joe finds it telling that big-name Mariota is the guy coming out of the gate — out of primetime viewing hours, when much of the country is still buzzing about opening day of the baseball season and the NCAA basketball finals last night.
In short, ESPN buried Mariota here. Brett Hundley's time with Chucky airs at 7:30 p.m., followed by Baylor QB Bryce Petty at 8 p.m.
Jameis Winston's episode has yet to be scheduled.
The good folks at Hawaii's big newspaper, the Star Advertiser, got a peek at the Mariota episode and claim a different side of Mariota will be displayed. "It is a smiling, laughing and, at times, wise-cracking Mariota, attired in a Nike "Hawaii" T-shirt and slippers."
They also point out Chucky appears to get irritated because he can't get under Mariota's skin.
TV schedules don't win football games. Joe gets that. But for fans who ache to see the Bucs be chosen by TV networks for night games, it's worth nothing that ESPN already has rejected Mariota.