$28.2 Million On Hold At One Buc Palace
April 7th, 2015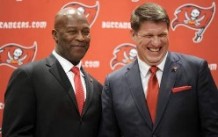 Always good for numbers that get Bucs fans worked up, ESPN shared yesterday, via Pat Yasinskas, that Tampa Bay has $28.2 million under the salary cap.
That's the third most available dough in the league.
Joe already can hear the screams of fans from the used car lots of New Port Richey to the swanky wine bars in Sarasota. These people don't get why the Bucs are 2-14 and failing to spend.
First, Joe can safely say there is no correlation to winning the NFL and spending maximum cash. (See New England)
Second, the Bucs aren't finished spending. Assuming they don't make ludicrous trades, the Bucs are likely to eat up about $8 million in 2015 contracts to rookies. Yes, Jameis Winston the No. 1 overall pick still gets paid pretty well in this era of the rookie salary cap.
Also, the Bucs are poised to work out a contract extension with Lavonte David before opening day. However that may be structured, it could include a pile of cash under this year's salary cap. Plus, there are still other players to be acquired.
Money left over can be rolled into next year's cap.
Calm down. Breathe easy. Lovie Smith said there's no reason to keep any nickels in the vault, and the Bucs will spend their money.