Spreadsheeter Souring On Mariota
April 7th, 2015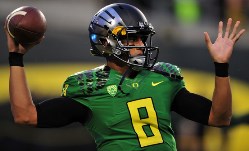 To hear some, Oregon quarterback Marcus Mariota is easily a No. 1 overall pick and is fighting with Florida State quarterback Jameis Winston to be selected by the Bucs later this month.
But as the offseason rolls on, more and more claim Winston is headed to the Bucs and that Mariota was slipping. Joe has read projectins that Mariota could fall to the Jets (No. 6) and, perhaps, even to the Eagles (No. 20).
This, of course, rankles the Mariota Band.
One guy losing his attraction for Mariota is Steve Palazzolo of Pro Football Focus. He is starting to believe Mariota needs a specific coach for him to succeed on the NFL level.
The more I watch Mariota, the more I think he needs Chip Kelly much more than Chip Kelly needs him.

— Steve Palazzolo (@PFF_Steve) April 5, 2015
Joe wouldn't go that far. Mariota very well could be a stud quarterback. But like the vast majority of spread quarterbacks, learning an NFL system is going to be a hurdle. If he can figure that out (big "if"), who knows how far he could go?
That's a big question mark, though.