NFLPA: Mariota Beats Jameis In Marketability
February 4th, 2015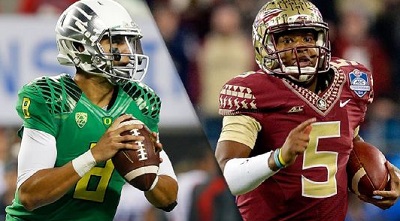 Now here's something that might catch the eye of Team Glazer.
The marketing wing of the NFL Players Association used its resources to analyze and craft a list of player marketability.
Marcus Mariota and Mike Evans bested Jameis Winston.
It's called the annual "Rising 50" rankings.
Per the NFLPA, the rankings represent objective analysis of 2014, on-field performances, fantasy league popularity, "early demand from current partners and licensees," and local market forces as factors in potential popularity that leads to sales.
Here is the top 10. Keep in mind players can only appear in one year, which is why long-established stars are not listed.
1.   Odell Beckham Jr.
2.    Le'Veon Bell
3.    Marcus Mariota
4.    Antonio Brown
5.    T.Y. Hilton
6.    Jeremy Hill
7.    Mike Evans
8.    Jameis Winston
9.    Randall Cobb
10.   Kelvin Benjamin
So would Mariota be more popular around these parts than Winston? That's hard to believe.
Regardless, Joe maintains that if Team Glazer was concerned about selling tickets and gear, then Tim Tebow would have been brought in years ago to compete for a backup QB job.