The Bucs Are Hunting A Guy Cut Eight Times?
March 8th, 2015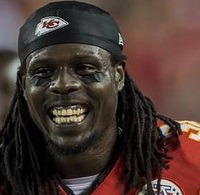 NFL Free agency is so darn fun.
It's hope, frustration, excitement, fear and agent lies all rolled into a free-flowing mess.
Word broke yesterday from various sources the Bucs were in the early hunt for versatile Chiefs cornerback/safety Ron Parker.
Parker, who turns 28 this summer, is great one-hit wonder kind of story.
Undrafted in 2011, and cut eight times in four years, Parker settled in with the Chiefs under the Andy Reid regime. A reserve to start last season, he jumped into the starting lineup to replace superstar safety Eric Berry in Week 2.
He had a very strong season, bouncing between safety and cornerback and, per reliable Ralph Vacchiano of the New York Daily News, seven teams were hunting Parker yesterday, Day 1 of the pre-free-agency exploration period.
A product of tiny Newberry (S.C.) College – the same place the Giants found receiver Corey Washington – Parker ended up having a career season with 12 pass deflections and an interception. The high point was a November game where he played corner against Buffalo's Sammy Watkins and held the star rookie to four catches for 27 yards even though he was targeted 10 times.

Parker is generally not mentioned among the top tier of free-agent safeties – a short list which mostly includes only McCourty and Denver's Rahim Moore (both of whom interest the Giants) – but in this market he still should be able to get a deal worth $4-5 million per season.  Many NFL agents believe McCourty's deal will end up north of $9 million per season, with Moore's deal falling somewhere in between.

Parker's bottom line will be helped by the fact that seven teams had already expressed an interest on Day 1, including the Giants, Jets, Texans, Falcons, and Bucs. The Chiefs are apparently hoping to bring him back, too.
Joe suspects speed and versatility are what's drawing the Bucs. Lovie Smith wants fast guys to attack the football, and Parker (listed at 6-0) was a 4.35-second 40 yard dash guy.
If the Bucs are courting Parker, then Joe's confident that would signal a Bucs end for overpaid Dashon "Hawk" Goldson.
For those interested, here's a long, interesting feature on Parker from the Kansas City Star. Most interesting to Joe was the revelation that Parker's injuries early in his career were attributed to improper footwear. He got orthotic inserts and has been healthy ever since.