Furiously Defending Marcus Mariota
March 8th, 2015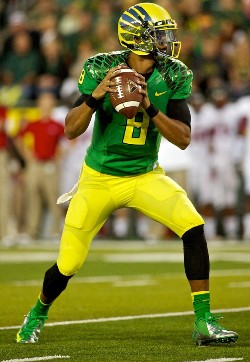 Damn, they get really defensive in Oregon if you start asking how the Portland Timbers have sold out every game and questioning how Marcus Mariota will be prepared to run an NFL offense.
The Oregonian reporter Andrew Greif dove into this subject as it related to former Buccaneer and current University of Oregon offensive coordinator Scott Frost talking to TheMMQB.com about Mariota.
Frost is in disbelief at the national narrative on Mariota. And Greif shared interesting background from his intelligence-gathering while covering the Ducks.
"To say Marcus can't play in a pro style offense is like saying Dwyane Wade can't play in the triangle offense," Frost told [Peter] King. "To say he can't do the things an NFL quarterback can do–I laugh when I hear people say that, and I am keeping track of all the experts who've said it. He changes protections, he slides protections, he shifts protections, he makes reads, he changes calls at the line. Watch our games. We have every protection at Oregon that they have in the NFL. He changed protections at the line seven or eight times a game. He completely changed the play two or three times a game."

His comments echo what he told me last fall, while I was reporting a story that never ended up being written about Mariota's freedom at the line of scrimmage. Center Hroniss Grasu, in September, said that though he changed the protection at the line, Mariota had the ability to override it at any time before a snap. (The two worked together for so long that they could switch protections with solely hand signals.) And Frost said Mariota was one of the most cerebral — read: trustworthy — quarterbacks he'd ever been around, which is why they allowed him to change a play if he felt it wasn't correct.

I remember asking Grasu for an example of a time when Mariota switched into a better option after reading the defense, pre-snap.

"I couldn't really tell you, because it happens all the time," Grasu said in September.
Yes, Joe firmly believes Jameis Winston is the frontrunner to be the Bucs' new quarterback of the future. But Mariota fever isn't going to die anytime soon. Hype should swell for Mariota next week, when he has his Pro Day, and Joe's confident the Bucs will go publicly bonkers for Mariota when he visits One Buc Palace in a few weeks.
It's in the Bucs' best business interests to captivate fans as much as they can — and get fans salivating for either QB.
As for the Xs and Os of Mariota's game, Joe has no doubt that the kid is a great prospect, but for Frost to assert Mariota's role in Oregon's system was very NFL-like is downright silly.