Let Da'Quan Bowers Walk
March 8th, 2015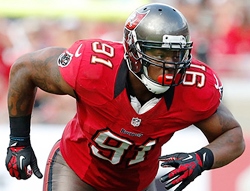 Joe was stunned yesterday when he learned, by way of Houston sports radio yakker Jayson Braddock, that the Texans were trying to lure Bucs free agent defensive end Da'Quan Bowers, but the Bucs were trying to keep him.
(Joe communicated with someone he trusts last night and was told that, well, this rumor from Braddock has some holes in it.)
Joe knows Bucs fans are just fed up waiting for Bowers to do anything. So too, is Andrew Astleford of Fox Sports Florida, who believes the Bucs should just hand Bowers his parting gifts and wave goodbye.
Reason to let walk: This should be a no-brainer. With Jacquies Smith's discovery at defensive end, and with plenty of depth at defensive tackle, Bowers is expendable. He was a bubble player to make the roster at the end of last preseason. This year, it's time to part ways.

Prediction: Bowers never lived up to his potential with the Bucs. Perhaps he'll revive his career elsewhere, but it's best if both parties move on.
Joe would be slightly surprised if Bowers is brought back, even at a league minimum. It was telling prior to the Week 16 Packers game in December, when Bucs defensive coordinator Leslie Frazier said he thought Bowers was just beginning to understand how important conditioning is.
Wait a minute: Bowers had been in the NFL for four years and was on his third coaching staff, and he finally was beginning to figure out he needed to be in shape to play well? In Week 16?
That right there would have been enough for Joe to give Bowers his pink slip.