Winston Earns Kurt Warner's Football Blessing
March 24th, 2015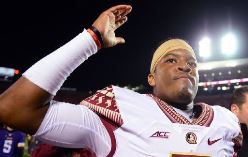 The football men, not the analyst types, keep lining up to anoint Jameis Winston as the No. 1 quarterback in the NFL Draft.
It just so happens, the Bucs have the No. 1 overall pick and desperately need a quarterback.
Speaking this afternoon at an event during the NFL Owners meetings, Super Bowl-winning QB Kurt Warner, who works for NFL Network, didn't mince words when talking about Winston the football player.
Tampa Tribune scribe eye-RAH! Kaufman Twittered out the strong take. "I believe Jameis, from a football standpoint, is by far the most advanced quarterback in this class," Warner said.
Warner is not new to the Winston bandwagon, but this was the strongest Xs and Os support he's given to date.
Joe suspects that trend will continue — as more film is scrutinized of Winston and the rest of the 2015 QBs.