Jason Licht: History Backs Dirk Koetter
March 24th, 2015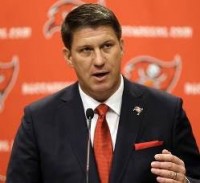 Joe enjoyed private time with Bucs general manager Jason Licht today at the NFL Owners Meetings in Phoenix. It's always great to catch up with the GM in a relaxed setting, and Joe will share various nuggets this week.
One area Joe wanted to explore was new offensive coordinator Dirk Koetter, who could be the new savior of the franchise.
Much has been made of Koetter being the anti-Marcus-Arroyo, a guy who can do the job versus a guy who couldn't. But Joe wanted a better understanding of why Koetter is great, not just that he's a superstar compared to the last Bucs playcaller.
A point of emphasis for Licht was Koetter's long history. It's a resumé of maximizing quarterbacks — even if they weren't very good.
"He's always gotten, go back to his college career, he's always gotten the most out of his quarterbacks. Always," Licht said. "Maybe he didn't get great quarterback play, but he got the most out of that particular quarterback. So especially, I'm thinking back to Arizona State, go back and look it up. … He had [David Garard and] Matt Ryan. That's the exciting thing, if we did go that route [of drafting a quarterback] that he's got that experience with quarterbacks. Even back to Boise State and Missouri."
Joe's not going to type up the various no name quarterbacks coached by Koetter, but Licht's point was clear and insightful. Koetter's history with quarterbacks is very much like that of Jeff Tedford, who squeezed a lot out of some college QBs who didn't succeed without him.
Like Tedford, Koetter played the position, too. But unlike Tedford, Koetter has a mountain of NFL experience and has orchestrated top-10 offenses with two different franchises.
Joe joins Licht in physically expressing relief that Koetter is a Buccaneer.
So is Koetter a big voice in selecting the next Buccaneers quarterback?
Licht dropped ice water on that characterization, saying Koetter's voice is the same as an area scout's. Licht emphasized that coaches and staff are all "decision makers right now," before the draft board is "whittled down" and the draft-day decision makers take over.
Stick with Joe all week for more from Licht, on Koetter and more.