Jameis Watch: "Confessional Interviews"
March 28th, 2015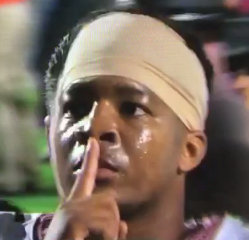 Crab-legs-stealing, BB-gun-shooting, obscenity-hollering, Heisman-Trophy-winning, former national champion Jameis Winston, the pride of Florida State University, continues to look like a much better quarterback prospect than Mike Glennon.
It's Joe's daily nugget on the Jameis Watch, celebrating the best quarterback ever to wear No. 5 in the state of Florida.
There's a new quote out from Jameis Winston, and it highlights is supreme confidence and loveable cockiness.
"I'm pushing myself to a limit that I know nobody can compete with," Winston tells the Game Changers cameras. That's the annual NFL Network series that has some top draft prospects training and interacting on camera with former NFL superstars, Steve Mariucci and each other.
It was revealed yesterday that Winston will be on the series, which premieres Tuesday. It also seems, per the season preview (see previous link), that Winston will be working with Kurt Warner. That would explain Warner blessing Winston's skills at the NFL Owners Meetings this week.
Mark Mayer, executive producer of "Game Changers," said players will be put through "confessional interviews," so fans can really get to know them.
That should be fun.