Could The Bucs Go Status Quo On The O-Line?
March 23rd, 2015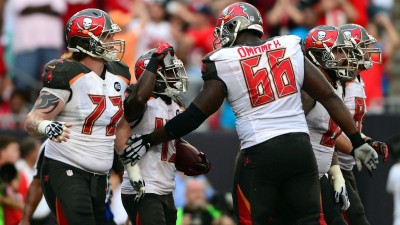 The free agency dinner bell rang two weeks ago, and the Bucs have not added an offensive lineman.
They booted one, Anthony Collins, and let another quietly fade away, Oneil Cousins.
So now what?
There are no great left tackles walking the streets. There are no slam dunk left tackles in the draft. Left tackle project Demar Dotson, who started the Bucs' last three games there, might actually be their best option when training camp begins.
Lovie Smith already has anointed barbecue-yearning guard Logan Mankins. He said center Evan Dietrich-Smith is a "foundation" player. Joe hasn't heard official negativity uttered about Patrick Omameh. Perhaps second-year man Kevin Pamphile is a guy the Bucs believe can make a leap at right tackle.
Sure, there's depth in this year's draft at offensive line. But if the Bucs don't bite in the first two rounds on the offensive line, then they'd be banking on a third-round pick. That would be just fine if the Bucs pick a winner who turns out like the 2008 third-round pick, Jeremy Zuttah.
Joe's not trying to frighten anyone, but there is a chance the Bucs bank on organic development of their returning offensive line.
There's a lot of sentiment among important people that the mere presence of new offensive coordinator Dirk Koetter, versus ill-suited understudy Marcus Arroyo, will fix a whole lot.
Also, Joe views the return of O-line coach George Warhop of an endorsement of the job he did. (Yeah, really.) Again, Joe's not trying to frighten the masses, just sharing what could be Lovie's mindset for a team "on the verge."