Lovie Endorses Dietrich-Smith For 2015
December 17th, 2014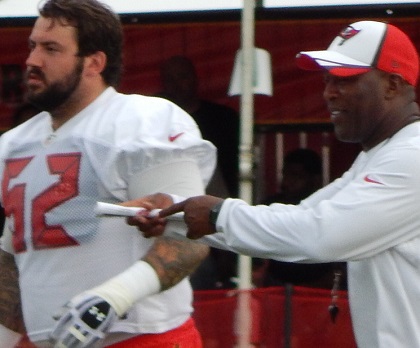 Lovie Smith said "true football fans" can see the Bucs are "on the verge."
Lovie said he knows the exact steps needed to take next.
And now Lovie has endorsed his starting center as part of that future.
Former Packers center Evan Dietrich-Smith, who Green Bay personnel legend Ted Thompson let walk away in free agency, was inked by the Bucs early in March to replace Jeremy Zuttah.
Asked about his new starting center today by Packers media, Lovie was quick to identify him as a building block to greatness.
"He's been great," Lovie said of Dietrich-Smith. "Loved him when I got a chance to meet him, you know, on his free agent visit. Evan, like a lot of our players, aren't used to losing as much as we have been here right now. But he is part of that foundation I'm talking about, and why we're gonna, you know, dig ourselves out of this, you know, this hole.

"But Evan has been, you guys know exactly who he is, he's a consummate football player. He's not a guy that's shy in the corner and not do any talking. So he's been a good addition to our team."
Per RotoWorld.com, Dietrich-Smith is scheduled to earn $3.75 million next season. That's a lot of cash for a guy Joe isn't sure could be classified as an "average" NFL starting center.
Joe knows loads of Bucs fans are trying to figure out what moves the Bucs will make this offseason. Many assume they will blow up the offensive line.
Don't count on it.