Warren Sapp Pinched For Solicitation
February 2nd, 2015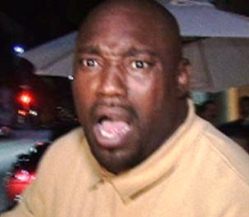 Pro Football Hall of Famer and Bucs great Warren Sapp had an eventful time in Phoenix during Super Bowl Week. Apparently, too eventful.
Per TMZ.com, Sapp was pinched in Phoenix for soliciting a woman of the evening. The site has all the details.
Warren Sapp was arrested in Phoenix this morning for soliciting a prostitute around 7AM … TMZ Sports has learned.

Sapp was also arrested for assault.

The 42-year-old "Dancing with the Stars" alum was booked just a few minutes ago.
Joe is assuming (yes, that's dangerous) the photo TMZ is using is Sapp's mug shot from this morning. Joe will add details as they come in.
UPDATE 4:07 p.m.: Deadspin.com has a summary of the incident from the Phoenix police. It is ugly. Apparently, Sapp spilled the beans he was buying sex. An excerpt:
On February 2, 2015 at 2:30 a.m. Phoenix Police officers working security at a Downtown Phoenix hotel were investigating a noise disturbance when they were contacted by a female alleging she had been assaulted. The incident was alleged to have occurred in a guest room, after meeting in the lobby while she and another female were there as escorts. During a meeting in the room, an argument ensued, allegedly over money and the altercation turned physical, spilling out into the hallway.

During the investigation detectives were able to establish that an act of prostitution occurred in the room by at least one of the females. Sapp was detained and transported to Phoenix Police Headquarters. While there he was questioned and admitted involvement in the act of prostitution, but denied assaulting the females. Minor injuries consistent with a struggle, were observed by investigators on both females.
UPDATE 3:54 p.m.: Per Phoenix police chief Joesph Yahner, Sapp is also accused of slapping around two women who sustained injuries. This also happened in a hotel where Sapp was pinched. The video of Yahner is below.
UPDATE 3:30 p.m.: Sapp's name and bio have been removed from the page that lists all on-air talent with the NFL Network. Per TheBigLead.com, Sapp was paid $540,000 annually on his previous contract with the NFL Network. Sapp has been working under a new contract effective August 2014. No details on his current salary.