"The Strongest Dude I Pretty Much Ever Blocked"
February 2nd, 2015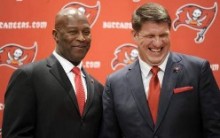 Before last night's Super Bowl, Seahawks guard James Carpenter had started 40+ NFL games over his first four seasons.
So he's got a feel for tough guys in the NFL trenches.
Joe talked to Carpenter in Phoenix about what kind of leadership effect Buccaneers defensive tackle Clinton McDonald had on him when McDonald played for Seattle.
But the funny thing was Carpenter wouldn't talk to Joe about leadership.
When it came to McDonald, all Carpenter could do was remember how much trouble McDonald gave him.
"That was a strong dude, man. Really powerful. His main thing was power. He was the strongest dude I pretty much ever blocked," Carpenter said.
Joe could type more about what Carpenter said, but it all would just revolve around the burst and strength of McDonald, who had five sacks for the Bucs last year.
No wonder McDonald's old teammates called him "truck driver."