Jameis Watch: "Smart" Pick
February 8th, 2015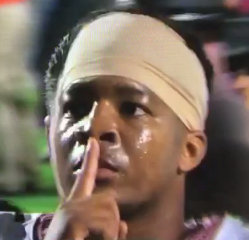 Crab-legs-stealing, BB-gun-shooting, obscenity-hollering, Heisman-Trophy-winning, former national champion Jameis Winston, the pride of Florida State University, continues to look like a much better quarterback prospect than Mike Glennon and Josh McCown.
It's Joe's daily nugget on the Jameis Watch, celebrating the best quarterback to wear No. 5 ever in the state of Florida.
The people comprising the Marcus Mariota Gang don't so much think Mariota is better than Florida State quarterback Jameis Winston. It is because, for a variety of reasons, they are scared of Winston.
Whether it is his brash personality, or his outspokenness or his swagger, Winston sure rubs a lot of folks the wrong way. Joe is not among this group. He considers these traits valuable assets.
Deron Snyder of the Washington Times believes any team that picks Winston is just smart.
Quarterbacks have never been more valuable. Breathing on them too hard can trigger 15-yard penalties. Not yielding the right of way to wide receivers can result in automatic first downs. The NFL is addicted to passing yardage and passing touchdowns, and the modern-era rulebook serves as pusher.

Teams with elite passers will be competitive — period — whether they have lackluster ground games, porous defenses or mundane special teams.

Which is why the Tampa Bay Buccaneers would be smart to choose Winston with the No. 1 pick.
While Joe is not convinced the Bucs will draft a quarterback at No. 1 — remember, we are talking Lovie Smith here — unless Team Glazer takes control on the night of April 30, Joe thinks with all the question marks Mariota has, it's not just smart for the Bucs to draft Winston, it is the only choice — if the Bucs are serious about rebuilding this moribund franchise.