Fixing The Offensive Line
February 8th, 2015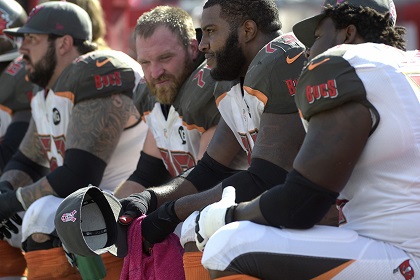 Man, the offensive line was some kind of bad last year. Joe wonders if turnover-prone quarterback Josh McCown had to seek a shrink after getting pounded like a red-headed stepchild.
Joe still maintains the only starter from last year who is safe is Demar Dotson at right tackle. Sure, Lovie might move him to left tackle, but at 30 – Dotson will turn 30 this fall — why try to teach an old dog new tricks?
Andrew Astleford of Fox Sports Florida believes the Bucs might have to go free agent shopping next month to fix this porous line.
Likely, free agency is the quickest way to revamp the line (again) after the failure of 2014. It's unlikely that Smith and Licht can wait for a young, promising lineman to develop. The pair needs immediate results. Of course, drafting a left tackle in the high rounds would be wise. But targeting veteran players like the Denver Broncos' Orlando Franklin and the Cincinnati Bengals' Clint Boling for instant impact would be beneficial.
Personally, Joe thinks the Bucs should just stay clear of any Bengals free agent. You know, it worked out so well with left tackle Anthony Collins and ghostly defensive end Michael Johnson.
Fans have to come to grips with the fact the Bucs are a rancid outfit. That's generally what a 2-14 team is. For the Bucs to get any decent free agent, they will likely have to overpay (hello, slimy Eric Wright). Not too many free agents want to play for a garbage team.