"Are You Scared Of The Stage?"
February 17th, 2015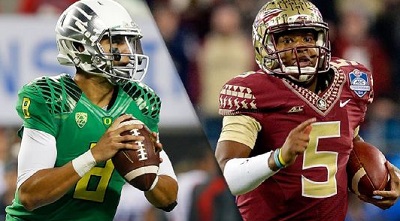 The drama is building for the decisions. No, not what the Bucs will do with their premium draft picks.
Will Marcus Mariota and/or Jameis Winston throw this week at the NFL Scouting Combine?
It's unknown, but answers are coming in a matter of hours.
Quarterbacks arrive in Indianapolis tomorrow to register and get a hospital pre-exam and X-rays. On Thursday, they will be measured and poked by doctors, and meet the media. Then there is Friday's psychological testing, strength testing and a meeting with the player's association. Grilling by teams in private meetings is mixed in during the week, and Saturday is the televised on-field workout — if Mariota and Winston choose to throw.
The Associated Press claims Mariota's sprained shoulder, injured during the national title game, is much improved and he might throw. Winston has yet to commit. Joe speculates he's waiting to see what Mariota will do.
Tiki Barber, speaking on CBS Sports Radio, said today it's important for prospects to step up and compete. He acknowledged Mariota might not "want to show a deficiency" because of an injury. But Barber said that is a slippery slope.
"But if you use it as an excuse, meaning, 'I don't want to put myself out there,' then it leads to questions from general managers," Barber said. "No. 1, 'Are you scared of the stage?' But No. 2, you gotta perform. You got to be in situation in a regular season NFL game where things are going to be uncomfortable. And trust me, the combine is uncomfortable. They parade you around in your underwear basically. They measure every single inch of you. … All these other things."
Barber went on to say some combine strength tests on machinery is uncomfortable and can leave an athlete sore, affecting his on-field performance and confidence.
Joe really hopes both guys throw. It doesn't mean much in a controlled environment, but it'll be awfully fun to compare.