Top Buccaneers Mysteries Of 2014 — No. 17
February 17th, 2015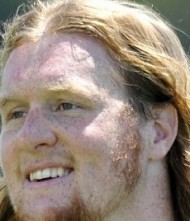 In many ways, Tampa Bay's 2014 season was more bizarre than the MRSA-infected, quarterback-gone-mental, Fire-Schiano-billboards campaign of 2013.
There were plenty of real Bucs mysteries last year, and Joe's revisiting the most interesting of the bunch.
No. 17 — Virgin center
The Buccaneers' backup center on opening day was Garrett Gilkey, who was signed a handful of days earlier. Joe knows Gilkey was the backup center because Lovie Smith said so during his Week 2 radio show.
But what Lovie didn't say is what left Joe and much of the universe mystified 2 1/2 months later. Gilkey had never taken a game snap at center — ever!
On Nov. 30, Gilkey started at center against the Bengals. The penalty-riddled results were brutal — and Gilkey's virgin-center secret was revealed after the game.
Meanwhile, the Bucs were in the heat of a playoff chase, per Lovie. And Tampa Bay had a real reserve center (you know, a guy who actually played the position before) Josh Allen, sitting on the bench.
No. 18 — Investing in seven starts
No. 19 — Returner decisions
No. 20 — VJax's wrist
No. 21 — Anti-Jell
No. 22 — Seferian-Jenkins boasting about penalized pose
No. 23 — Never moving Michael Johnson
No. 24 — "I didn't want to put more points on the board"
No. 25 — Glennon success without an offensive coordinator
No. 26 — Putrid punting
No. 27 — Defending three-step drops
No. 28 — Eight consecutive red zone runs versus Rams
No. 29 — Leaky Sean Glennon
No. 30 – Jorvorskie Lane