Steve Mariucci Talks To Joe
January 30th, 2015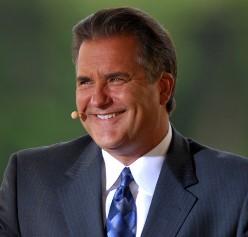 Man, yesterday was a zoo at radio row at the Super Bowl. And Joe learned something: Handlers of every two-bit celebrity (not to mention the real celebrities) DO NOT like reporters.
These suits have no use for reporters. The hired guns treated Joe and others like mosquitoes, swatting at them and shoveling their clients from radio table to radio table. A reporter wanting questions just screws up everything for them.
Yesterday, Joe hounded the suit that was leading NFL Network analyst and former playoff coach Steve Mariucci around like he had him on a leash.
Every time Joe asked to talk to Mariucci — who sure seemed to want to talk to Joe more than the radio guys — the suit shot Joe down saying, "We have to go [pick a station]." Finally, Joe just told the guy he would walk along with Mariucci and ask questions.
(Remember, Mariucci was the first target of Team Glazer after Richie McKay tried to shove Marvin Lewis on the Bucs. Mariucci spurned Team Glazer's advances and Team Glazer then went after Chucky.)
Sadly, the discussion didn't get much past Oregon quarterback Marcus Mariota.
JoeBucsFan: What are the pros of Marcus Mariotta?

Steve Mariucci: Pros? Size. He's a great kid. He is a worker. He is everything you want off the field. He can be the face-of-an-organization kind of guy. You love him. Cons? You know, we say this to all of these spread-offense guys. He is in a system that is a little bit different than pro offense systems. He's not under the center. He doesn't turn his back on play-action passes. He has to learn all of that and learn to play the pro style way, unless he somehow goes to Chip Kelly.
While this is all interesting to Joe, what sticks out from Mariucci's response is that all of Mariota's best traits have nothing to do with throwing a football.
That scares Joe.