Davin Joseph Questions Dotson Relocation
January 30th, 2015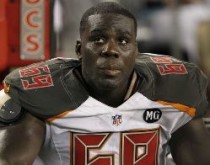 Demar Dotson has been an almost average right tackle on an underperforming offensive line for two consecutive seasons.
And now your Tampa Bay Buccaneers want him to shift to left tackle — as he approaches his 30th birthday.
Think Hail Mary pass attempt.
Joe's take is really no slight on Dotson. There's no shame in being an almost average starter. Heck, Dotson was undrafted in 2009, when he was a basketball-player project out of Southern Mississippi. Dotson's career is a fantastic success story. Fantastic! Kudos to his work ethic, and to former Bucs rockstar general manager Mark Dominik for signing him and extending his contract.
But what, however, are Dotson's odds of a successful transition?
Dotson's good friend, former Bucs captain Davin Joseph, is no fan of Dotson relocating to left tackle, so he told eye-RAH Kaufman of The Tampa Tribune in Phoenix yesterday.
Dotson and Joseph remained close last season, texting or talking several times a week. Joseph is proud of his role in showing a rookie free agent how to be a pro in 2009.
Dotson is now the longest-tenured Buc.
"That's my guy," Joseph said. "Dot's developed into a leader who can do great things for the Bucs, on and off the field. I hear the Bucs want to move him from right tackle to left tackle. I don't know about that. Today's best pass rushers come at you from all angles, not just off the right side. The way I look at it, if Dot's a standout at right tackle, why change?"
Hmm, so Joseph and Dotson are in touch regularly, and Joseph isn't upbeat about Doston's relocation on the O-line? Joe thinks it's easy to read between those lines.
Left tackle is big deal, especially with a rookie quarterback. That's one reason the Bucs cut a perfectly good left tackle last season, Raiders star Donald Penn, and signed a veteran from the Bengals who had never started more than seven games in a season. It was that important to solidify/improve the position.
Nothing has changed. Left tackle is still important, and Joe sure hopes the Bucs at least get some competition in the mix for Doston.