Thanking Arroyo And Slapping McCown
January 30th, 2015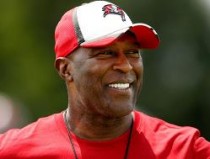 It's good to be bad sometimes, notes a former Buccaneers quarterback, who says Marcus Arroyo cost the team three or four wins.
Former Bucs quarterback Shaun King, one of three QBs to lead Tampa Bay to the NFC Championship game, tossed a hefty pile of blame — and thanks — on the former interim offensive coordinator Arroyo and King's former teammate, journeyman Josh McCown.
"One of the things I think Marcus [Arroyo] would do better, if he could do it over again, would not put McCown in some of those situations," King told the dean of Tampa Bay sports radio, Steve Duemig, yesterday on WDAE-AM 620. "I'm glad that we only won two games, because we get the No. 1 pick; but as a playcaller, if you just don't allow McCown to be in some of those situations, the Bucs probably win three or four more games."
King, a Cardinals teammate of McCown in 2004, said McCown's performance was no surprise because he has "never mastered the mental side of the game." King said film study of McCown's successful fill-in role with the Bears two years ago (five starts)  reveals unsustainable success on 50-50 throws. "Go back and break it down," King said firmly.
Joe and Bucs fans saw McCown play like a rookie last year. There is no debate on that. King said it was simply McCown playing like McCown — a great athlete who isn't good at the mental side of football.
Is that who Bucs fans want to mentor a shiny new rookie QB?
There's a divide at JoeBucsFan.com world headquarters. Half think McCown is a perfect bridge quarterback to guide and mold a rookie. The other half thinks there's zero evidence McCown can properly break in a rookie — or play good football — and the Bucs should be looking hard at finding a replacement.
You can hear all of King's Super Bowl and Bucs takes via the 620wdae.com audio player below.