Mike Evans: Mariota Is Like Johnny Football
January 17th, 2015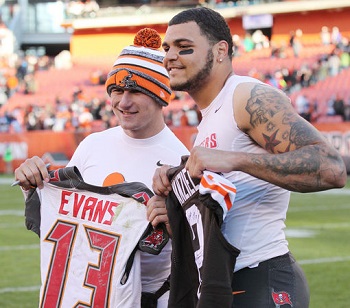 Barring a legal hassle or a miserable throwing performance in front of scouts, the Marcus Mariota-Jameis Winston debate will rage on for many Bucs and NFL fans.
That's why FOX Sports was talking quarterbacks with Mike Evans.
Evans shared how he believes Winston and Evans' close friend and college quarterback Johnny Football are similar when it comes to off-field perceptions and spotlight. On the field, he sees lots of Johnny Football in Mariota.
"I know Oregon beat Florida State pretty bad, but I like Jameis' game a lot," Evans said. "I like Mariota's game, too. Mariota reminds me a lot of Manziel. A bigger version of course. He won the Heisman. He's a great player. His resume speaks for itself. I think Manziel creates a little more than Mariota. Manziel does some impossible things, but they're very similar.

"And for Jameis he'll stand in that pocket and deliver that ball. They're both great players."
So which way is Evans leaning? Joe doesn't know, but Evans' college head coach seemed quite sure.