"Where My Heart Was Taken"
January 17th, 2015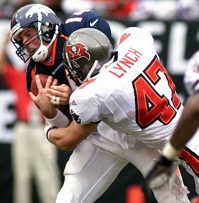 You remember Bucs icon John Lynch; he's the guy who called Tampa Bay's trade of Mark Barron to the Rams a "colossal failure" of Lovie Smith and Greg Schiano.
Lynch and Father Dungy are back in the news as finalists for the Pro Football Hall of Fame.
The big vote on the 2015 class is Jan. 31, and Lynch opened up a bit about his career this week.
Speaking on The Jim Rome Show, Lynch talked about being a second-round pick of the Florida Marlins and playing minor league baseball before Bill Walsh convinced him to return to the Stanford football team.
Lynch was a backup for the lowly Buccaneers in 1993, 1994 and 1995. People used to ask Lynch what he was doing playing football over baseball. But Lynch was always steadfast, he said, explaining football was "where my heart was taken" and how much he loved defensive football, even if he wasn't on the field.
Most interesting to Joe was Lynch talking about how the current Seahawks, highlighted by the ferocity of Kam Chancellor, has restored his faith that hard-hitting, defensive football is not a thing of the past.
Man, Joe would love to see the current Bucs look like a nasty, angry, hustling defense. Lovie Smith's group rarely looked that way.
(Listen to the full Lynch interview via the link above.)