Jameis Watch: Stock Down?
January 1st, 2015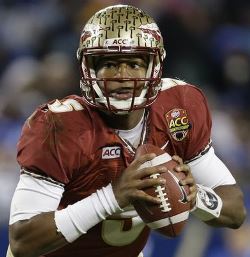 Crab-legs-stealing, BB-gun-shooting, obscenity-hollering, Heisman-Trophy-winning, national champion James Winston, the pride of Florida State University, continues to look like a much better quarterback prospect than Mike Glennon and Josh McCown.
It's Joe's daily nugget on the Jameis Watch, celebrating the best quarterback to wear No. 5 ever in the state of Florida.
The championship shine rubbed off Jameis Winston tonight, with his Seminoles getting beaten to a pulp by Oregon.
It was Winston's first loss in college — and likely his last, as he's expected to enter the NFL Draft.
But what will the game film tell the scouts and Bucs general manager Jason Licht and Lovie Smith?
Yes, Winston's Josh McCown-like backwards fumble choke job in the second half gifted Oregon a key touchdown. Ugly stuff. Winston seemed to have some poise issues, too, with clock management and communication a problem in the second half, though it's unclear who was at fault. Regardless, he's the leader of the offense and is responsible.
However, Winston made several fantastic throws. He rolled right. He rolled left. And he completed passes both ways. He finished 29-for-45 for 348 yards, plus a touchdown, and an interception that wasn't his fault. He very much looked like a quarterback that could handle a pro offense. It's not like Winston was playing with a fantastic crew of receivers.
Joe has not soured on Winston. This game film won't hurt him.
Joe suspects Licht and Lovie will like the fire and passion they saw from Winston on the sidelines and on the field, and Joe suspects his pumping up of teammates will impress.
The evaluation of Winston shouldn't change.
The real question is how much Oregon quarterback Marcus Mariota's stock rose after handling the intense pressure surrounding this playoff game, and how he thrived in what was a tight game early in the second half.