What Does An Average QB Look Like?
January 2nd, 2015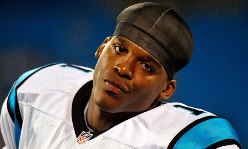 NFL.com ranked starting quarterbacks in 2014, and while it's a no-brainer that Josh McCown was in the basement with guys like Ryan Lindley, Blake Bortles and the medley of Titans gunslingers, Joe finds it noteworthy to see who ranked as average.
Here's the breakdown for the middle of the pack:
13. Ryan Tannehill
14. Cam Newton
15. Alex Smith
16. Colin Kaepernick
17. Matthew Stafford

Tannehill has proven he's a mid-level starter, albeit one without a deep ball. His athleticism fit well in new coordinator Bill Lazor's system. It's hard for me to rank him above Newton, but Cam's midseason slump was a reminder he's the streakiest top quarterback in the league. … Stafford can be depressingly consistent. He misses too many throws and doesn't adapt well against quality defenses.

Alex Smith is the opposite and doesn't really fit in this "enigma" tier. Smith and coach Andy Reid are playing a style of football that is more condensed than any in the league. It's not a blast to watch, but it's hard to argue with Smith maximizing a limited skill set. He's ranked above his old teammate Kaepernick, who had another frustrating year. I wrote last year that Kaepernick took a half step back in order to take two steps forward in 2014. Whoops. Could this just be what Kaepernick is?
Yes, those guys are average quarterbacks nowadays.
Of the dozen names ranked ahead of these, Joe's confident eight of them are future Hall of Famers. Eight!
This all just illustrates further how critical it is that the Bucs pounce on the best available quarterback in the draft, build around him, and hope for the best.
There will be no Bucs parade down Dale Mabry until they stop having the worst quarterback in the NFC South.