Fanatic Philly Trade-Up Fever Hits New Gear
January 20th, 2015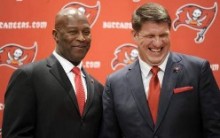 So the Eagles ran off their general manager and handed the checkbook at the keys to the cupboard to Chip Kelly a few weeks ago. Ever since, legitimate rumblings out of Philadelphia peg the Eagles as yearning to trade up with the Bucs.
Today, things got hotter.
Mark Eckel of NJ.com, (yes, much of South Jersey hates the in-state Giants and loves the Eagles) is quoting an Eagles "source" claiming Philadelphia will stop at nothing to trade up to draft Oregon quarterback Marcus Mariota. So Mariota can be a plug-and-play stud in Kelly's offense.
One can assume their target would making a deal with the Buccaneers for the No. 1 overall pick to guarantee their pick of Mariota. You can read all about it here.
The quote that most interested Joe was this one from the Eagles source.
"It's probably going to take moving up twice to do it. There's going to be some wheeling and dealing involved."
Surely, any potential trade that could interest Tampa Bay would have to include players and draft picks. And the Eagles certainly have plenty of talent. Today's nugget implies the Eagles are willing to off players in advance for draft picks that could entice the Bucs, or the Titans with the N0. 2 pick.
For example, the Bucs might have no interest in LeSean McCoy because their offensive line is swiss cheese. However, a team like the Raiders might part with their No. 4 overall pick in 2015 for a guy like McCoy as part of a package. That pick could be used to entice the Bucs.
Joe's not advocating for the Bucs to trade their victory in the Chase for Jameis, but it would be foolish to not listen to what generous offer Philly might put on the table.