Schiano-Dominik Crew Led 2014 Special Teams
December 30th, 2014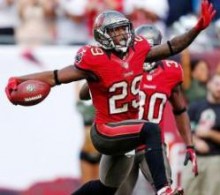 Joe wanted to bring happiness and good cheer to Lovie Smith's farewell-to-2014 news conference yesterday.
So Joe decided to ask Lovie to name his under-the-radar special teams stars of the season.
JoeBucsFan.com: Coach, outside of Patrick Murray, who you've talked a lot about a lot, who were your special standouts on special teams this year that maybe, you know, go under the radar?

Lovie Smith: I talk a lot about Patrick [Murray] because I didn't know a whole lot about him coming in. But then there is a core of special teams players. I'm going to talk about a guy that you know a lot about, you know, Shepard. You know, Russell Shepard. Just look at him and what he was able to do as a gunner, wide receiver, third quarterback, but just one of the core special teams players that we had – was really pleased with what he was able to do. A guy like Keith Tandy, Leonard Johnson, those were good special teams core players for us. Our linebackering crew as a whole, we have to feel comfortable. I have to say as we go forward that all of them are the reasons why we're having success with our special teams, too.
Previously, Lovie has talked about how most of his linebackers must be stout special teams players. It was unclear with yesterday's answer whether Lovie was talking about the linebackers' special teams play this season, or next.
Regardless, Joe will focus on Shepard, Tandy and Johnson. Hey, those are three Schiano-Dominik guys!
Tandy (2012 sixth-round pick), Johnson (2012 undrafted free agent) and Shepard (2013 waiver pickup) all have one more season remaining on their Bucs contracts. So that's good news.
The Bucs' special teams play this season had its ugly moments (leapfrog anyone?). But in all, special teams were probably almost average.
Somehow, the Bucs need to find a return man with some real juice. They failed repeatedly in that department this season.