Jameis Watch II: News Hints At Decision
December 30th, 2014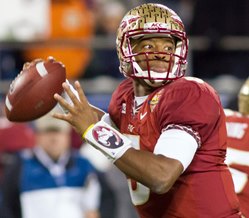 Crab-legs-stealing, BB-gun-shooting, obscenity-hollering, Heisman-Trophy-winning, national champion James Winston, the pride of Florida State University, continues to look like a much better quarterback prospect than Mike Glennon and Josh McCown.
It's Joe's daily nugget on the Jameis Watch, celebrating the best quarterback to wear No. 5 ever in the state of Florida.
Joe is breaking from pattern to offer two "Jameis Watch" updates because there seems to be telling news.
It seems Ohio State quarterback Braxton Miller, who was lost for the season due to a right shoulder injury, is looking to transfer as a fifth-year senior, a move so a player can play one more year to use up his remaining eligibility after graduation.
It's not unlike what Russell Wilson did when he transferred from North Carolina State to Wisconsin for his final season.
Well, per Tom D'Angelo of the Palm Beach Post, Miller has informed Florida State that he is interested in bringing his talents to Tallahassee.
#FSU has been told it's on list of schools Ohio State QB Braxton Miller is interested in playing for next year.

— Tom D'Angelo (@tomdangelo44) December 30, 2014
#FSU interested in taking Miller. Miller can transfer and play immediately having already graduated from Ohio State. — Tom D'Angelo (@tomdangelo44) December 30, 2014
So let's think this through: Surely Miller is not going to even waste his time considering a transfer to a school that already has an entrenched star quarterback. Miller is going to transfer to a school where he knows he can start right away.
Perhaps Miller already knows Jameis Winston has made a decision to turn pro and enter the NFL Draft. That's the only logical explanation.