Bucs Won't Coach Senior Bowl
December 30th, 2014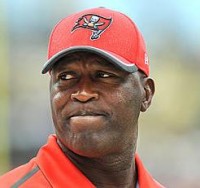 Football folks believe one silver lining to being the worst team in the NFL is that said coaching staff that led said team to the worst record in football gets to coach the Senior Bowl and scout prospective draft picks hands-on.
Apparently, Bucs coach Lovie Smith doesn't think so. Per Darrin Gant of Pro Football Talk, the Bucs said, "Thank you, no," to coaching in the Senior Bowl.
The Senior Bowl announced Tuesday that the Titans will coach the North all-stars and the Jaguars will coach the South.

The Buccaneers declined the offer to coach (probably because Lovie Smith doesn't have a full coaching staff), so the Jaguars took them up on the chance to coach a second straight year.

While the guys available with the top picks might not be in Mobile, as many skip out, the time spent with guys they're taking deeper in the draft will be a benefit to them in their preparations.
Joe isn't so sure how much of a benefit it is to coach the Senior Bowl. It's not like the Bucs aren't scouting practices or scouting the game, or aren't there to interview prospective draftees.
Of course, not having an offensive staff (remember, no offensive coordinator?) is likely the reason the Bucs passed.
However, a cynic may claim that Lovie didn't want the public humiliation of reminding his fellow coaches and football-types that he guided the Bucs to their worst record since Leeman Bennett walked the sidelines.