Lovie: "No Truth To That"
December 8th, 2014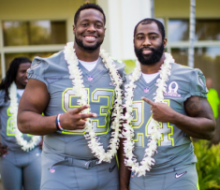 Bucs overlord of all things football, Lovie Smith, spoke from the One Buc Palace podium this afternoon and said Gerald McCoy did not dislocate his knee cap yesterday. That was the claim after the game from ProFootballTalk.com.
"No truth to that," Lovie said.
Lovie also went on to say McCoy only had a "bruise" and the Bucs would never put McCoy on the field with any kid of serious injury.
So that slams the door on that discussion. But Rick Stroud's Monday report, citing a comment from McCoy, remains curious. Of course, McCoy is the only guy who really knows how much pain or discomfort he was having. Perhaps McCoy knows he pushed it too far.
To hear Lovie's own words on the subject, click the arrow below. Audio courtesy of Joe's friends at WDAE-AM 620.