Report: Mike Williams Waived By Bills
December 8th, 2014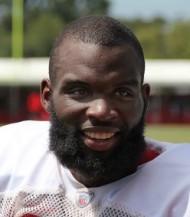 Shunned by the Lovie Smith regime for a mattress on his Tampa front lawn, a blade in his thigh, and other dangerous shenanigans, former Bucs stud wide receiver Mike Williams was traded to the Bills in April and is now a free agent, per the Associated Press.
The report claims Williams and Buffalo reached a "waived injured" deal. The Bills pretty much gave up on Williams when they transitioned from quarterback E.J. Manuel to Kyle Orton.
Williams, 27, had eight receptions this season for 142 yards and one touchdown in very limited action.
Prepare to hear more about Williams as Mike Evans is about to slash Williams' rookie marks from his standout 2010 season, when Williams had 65 catches for 964 yards and 11 touchdowns.
Evans, with three games to play, has 57 receptions for 935 yards and 10 touchdowns. He'll need a beastly finish to match Michael Clayton's rookie marks at wide receiver. In 2004, Clayton caught 80 balls for 1,193 yards before turning into a blocking icon.
Joe's not worried about Williams. His thigh is healed, and he'll find a job. Even Preston Parker is still around (Giants, 30 catches) from the Bucs' 2010 receiving corps, though that's about it. Arrelious Benn, Dezmon Briscoe, Sammie Stroughter, Mo Stovall and Micheal Spurlock are all out of the league.