"It Trickled Down To The Running Backs And The Tight Ends"
December 8th, 2014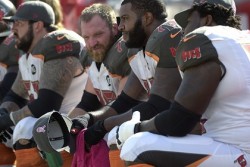 The Bucs actually had some decent pass blocking and a couple of good runs in the first half yesterday. It was the second half when the roof caved in.
Joe's written about how the offensive line was ground zero, but former Buccaneers tight end Anthony Becht was more into spreading the blame around.
Becht, known nowadays for being an ESPN college football game analyst and a voice on the Buccaneers Radio Network, hopped on WDAE-AM 620 today and explained that the offensive line's woes seemed to infect those around them.
"It trickled down to the running backs and the tight ends. Very poor performance in pass protection by all three phases of those, the offensive line, tight ends and backs," Becht said.
Becht also criticized Josh McCown, who he said has to be more aware, get rid of balls, and not take sacks.
With bad protection and little running game, Becht said, "you really don't find success with a guy like Josh McCown."
Joe wholeheartedly agrees on the running backs' poor protection. Joe's favorites (sarcasm) were when Doug Martin got hurdled and when Charles Sims oddly stopped helping Demar Dotson with a Lions defensive end, who proceeded to drive McCown into the turf.
You can hear all of Becht below, via 620wdae.com audio.