Yesterday, Today And Tomorrow
November 10th, 2014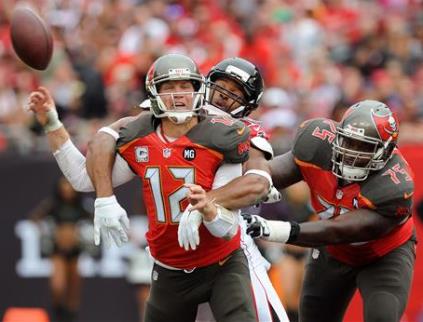 A long look at the Bucs yesterday, today, and what to expect tomorrow and beyond.
Joe doesn't know where to start. Is it the "Den of Depression," where the Bucs are 14-31 since Chucky was jettisoned?
Is it the five leads in the fourth quarter gagged away this season?
Is it that Josh McCown was brought to tears because this team is so awful?
Is it that the Bucs under Lovie Smith are, per Gerald McCoy, the most undisciplined outfit on which he has played?
Interesting to Joe that there are two first-year head coaches in the NFL whose teams are poised not just for a playoff run, but serious playoff contention. Funny these coaches aren't bellyaching how it takes so long to learn their systems.
Yet in Tampa Bay, that is the theme of the season. Oh, it will take time, so if the first season is a disaster, it means the players are still learning.
How much of a learning curve did Mark Barron need to impact as he did for the Lambs yesterday? Or is it that Jeff Fisher, a defensive guy himself, knew how to use Barron and didn't try to force-feed his system onto a guy who may not have the requisite talents for said system? You know, round hole in a square peg?
No matter how to look at this team, no matter what prism you use, it comes up the same. Whether it was player evaluation in free agency or of those already here, or just putting a winning team on the field, Lovie has flat out done a terrible job this year. An "F" grade if there ever was one.
Joe has to go back to Richard Williamson to find an equally bad job.
Use Your Heads!
The penalties were amazing but none more so than Austin Seferian-Jenkins' using the football as a prop. How could he be so dumb, which helped set up the Dixie Chicks' winning touchdown drive?
Surely ASJ – who Joe likes a lot – has to know that was a penalty. If he was so overcome by emotion that common sense vanished, then that tells Joe his head isn't in the game. That goes right back to Lovie. It is called "teaching."
What Happened To The Run Game?
It sure seemed like Lovie was bound and determined to show the world why he drafted Charles Sims in the third round. You know, as if Lovie himself was saying, "Ha, ha. Look what I found." The running back from West Virginia had more carries than Bobby Rainey and looked very mediocre.
Why not stick with something that has been worked the past two weeks and feed Rainey the ball? A simple but perhaps inaccurate answer is that Lovie never signed Rainey. He did draft Sims.
No Pass Rush
Joe is tired of typing this and he won't the rest of the year. The Bucs cannot use a pass rush on a weak offensive line because they do not have a pass rush of any sort.
For the third week in a row, the Bucs had a chance to take advantage of a beat up offensive line, and never could. So Joe is going to quit whining about no pass rush. That's like whining about the hot model girlfriend you never had. It's stupid.
What Can The Bucs Do Right?
When Lovie sits with Team Glazer, hopefully to review job performance, if Team Glazer asks Lovie the following question, he honestly wouldn't be able to answer:
How has the team improved since 2013? Joe cannot think of one damned thing.
NFL Thoughts
Crows: Justin Forsett ran for 112 yards and two touchdowns and the Crows defense harassed Titans rookie Zach Mettenberger all day long.
Chiefs: Wild game for the pride of Kansas City. The Chiefs scored twice in the final 4:36 of the game to rally for a road win over the Bills. Then in the final seconds, the Chiefs had a red-zone stand to win the game.
Lions: The Lions are for real. Matt Stafford's pass to Theo Reddick in the final seconds sealed the win. Don't hear first-year coach Jim Caldwell whining how it takes time for his players to learn his system.
Cowboys: Why should it surprise anyone the Cowboys beat the Jags? Tony Romo stayed away from the blondes long enough to toss three touchdown passes.
49ers: Joe is going to have to watch this game on rewind. Game that was nearly won on a Hail Mary went to overtime and was almost lost. Really exciting game.
Jets: Michael Vick outdueled Ben Roethlisberger to lead the formerly hapless Jets to an impressive win. Big Ben, who had 12 touchdowns in his last two games, had but one touchdown pass yesterday but two picks.
Broncos: Payton Manning beats a winless team. Yawn.
Cardinals: Could be a very costly win for the NFL-best Cardinals, losing starting quarterback Carson Palmer for the season with a knee injury, caused by a Mark Barron sack. Yeah, that Mark Barron.
Seahawks: Marshawn Lynch throttled the Giants with four touchdowns and a career-best 140 yards.
Packers: The Packers totally wiped the Bears off the map last night. Aaron Rodgers had six touchdown passes in the first half. The Bears are in complete and utter disarray. They became only the second NFL team – and first since 1923 – two give up 50-plus points in consecutive games.
Browns: What a game they had against the Bungles and now there is real, legitimate talk of playoffs in Cleveland. Remember what that was like Bucs fans? Hey, who said it is a bad thing to fire a coach after one year like the Browns did? And for those who say who would replace Lovie Smith if Team Glazer saw fit to make a move, hey, for all you know, Mike Pettine delivered your mail. Just food for thought. Don't see first-year coach Pettine whining about how it takes time to learn his defense.
Non-NFL Thoughts
1. You want to know why Joe hates kickers? Just go back to the final moments of the Alabama-LSU game. LSU kicker kicks the ball out of bounds and it is a penalty giving Bama the ball at the 40. May not have mattered but it was significant. All the dude had to do was keep the ball in bounds. Part-time players should not make big-time mistakes.
2. Joe read early this season that the SEC West would cannibalize itself. Sure looks like that is what is happening.
3. There is a chance that no SEC West team will make the four-team playoff. Joe doesn't expect that to happen but can see how it could.
4. No, Ohio State has no business in the playoff. Sure, it was impressive how they boat-raced a decent Michigan State team, but losing to Virginia Tech and going to overtime with Penn State should keep you out of any playoff talk. Enjoy the Orange Bowl.
5. Florida State just doesn't look impressive. Last year they just destroyed teams. This year it seems they play down to their opponents. That rush defense of theirs scares Joe. Wouldn't be a shocker if Miami beat them by pounding the ball between the tackles. This, despite Eddie Goldman and occasionally Mario Edwards playing inside. If Florida State didn't have Jameis Winston, they would be a four-loss team.
6. Impressive, impressive win by Texas A&M. Just when Joe was about to write off Kevin Sumlin as an overrated quarterback coach, the Aggies put the hurt on Auburn. Yes, Auburn gave the game away, but still, impressive by the Aggies.
7. Joe was confident Auburn would pull the game out. Save for last year's BCS title game, no team had magic pixie dust like Tigers.
8. Joe guesses Oregon was impressive, but Utah? OK. Whatever. Joe was sleeping and missed it.
9. Joe tried to watch some B1G games at noon and that conference has become unwatchable. Kirk Ferentz is stealing money from the good citizens of Iowa, and what the hell happened to Pat Fitzgerald and Northwestern? They are the Northwestern of old. When Minnesota is one of your better teams, you have become a hack league.
10. Man, Baylor put the hurt on Oklahoma. The Sooners sure looked like a team whose coach, Bob Stoops, was about to bolt to Ann Arbor.