Bucs Defense Tanks Again
November 10th, 2014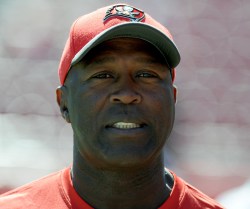 Joe has made a point over the past couple of weeks that the Bucs defense improved and maybe turned a corner. To quote Lee Corso, "Not so fast."
Yes, holding the Vikings to 13 points in four quarters was a good thing. And in the loss to the Browns, it was not the defense that caved in so much as the not-so-special teams.
Well, Joe has to take some of that defensive praise back. Yesterday was the fifth time this season the Bucs had a lead in the fourth quarter and gagged the game away. The Bucs lead the NFL is having a Mucinex defense, coughing up five fourth-quarter leads.
This coming from Lovie Smith's defense on a team Gerald McCoy called perhaps the most undisciplined outfit he has ever played with. And mind you GMC played on teams coached by Raheem Morris and featured the likes of tasered Geno Hayes, pistol-whipping, granny-hassling, cabbie-slugging Aqib Talib, reality TV star Dezmon Briscoe, mental Josh Freeman and wheelie-popping, Vaseline-friendly Sgt. Winslow, in addition to bong-friendly Tanard Jackson, King of Turds Jerramy Stevens and serial loafers Sean Jones and Albert Haynesworth.
And those Bucs teams were better than what Lovie has marched onto the field on NFL Sundays.