Time To Punt Michael Koenen
November 10th, 2014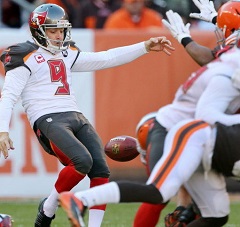 Joe's one of those psycho Bucs fans who listens to all the player shows that air each weekday on WDAE-AM 620.
And earlier this season, Bucs special teams coach Kevin O'Dea joined Lovie Smith on the air to engage in some over-the-top raving about punter Michael Koenen.
So what the hell happened?
Simply stated: the Bucs have the worst punting stats in the NFL — last in yards per punt, last in net yards per punt. It's not even close. Koenen cranked out another shoddy punting effort yesterday. How about that 23-yarder?
Joe's no punting expert, but it's clear Koenen is having a brutal season. It also seems as if the Bucs coaches got in his head to never allow a return after the touchdown to Devin Hester in Atlanta, yet Koenen seems incapable of drilling a decent punt of bounds or of making consistent directional kicks.
Rookie kicker Patrick Murray also is a punter. Joe thinks it would be great to give Murray a shot. You know, see if he can develop his skills.
Koenen is set to earn $3.25 million next season, money he's never going to see.