Mistakes Bother Bobby Rainey, Too
November 10th, 2014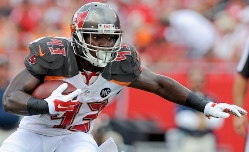 Most of the Bucs are flat out talked out after yet another loss at the Den of Depression. What is there to say after so many?
Bucs defensive tackle Gerald McCoy is rarely at a loss for words. He was yesterday in the locker room, other than suggesting the Bucs are the most undisciplined outfit he has ever been a part of. Not very encouraging words, huh?
It isn't just GMC who is fed up with the mistakes, so too is running back Bobby Rainey.
"That first drive we had 18 plays," Rainey said. "That's a lot of plays for a drive. Josh was on top of his game, throwing the ball perfect. We just can't hurt ourselves. The only thing is we can't hurt ourselves. When we don't hurt ourselves, we move the ball and put up points. As long as we continue to not hurt ourselves we're fine. But, that's what we keep doing, we keep hurting ourselves."
Joe isn't sure what to say. It smells like there is a disconnect from Lovie because he surely doesn't preach penalties. He does preach sacks, quarterback pressure and takeaways. Everything Lovie stresses isn't happening and everything Lovie doesn't stress happens.
Either the personnel Lovie selected is not capable of playing without mistakes, or the team doesn't respect Lovie enough to listen. However you slice it, the answer is not pretty.