Revisiting The Sammy Watkins Fetish
November 10th, 2014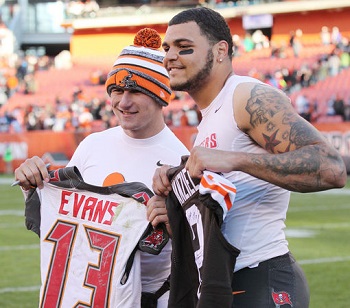 So many Bucs fans were out of their minds obsessed with rookie receiver Sammy Watkins leading up this year's NFL Draft.
These fans were out of their minds crazy aching for the Bucs to trade up to draft the talented prospect out of Clemson.
Joe consistently referred to this phenomenon as the Sammy Watkins Fetish.
And it turned out the Bucs could have traded up for Watkins, like Buffalo did to snatch him with the No. 4 overall pick. But the Bucs played it cool and drafted Mike Evans at No. 7 overall, shunning Joe's desire for a quarterback.
Thus far, it sure seems like the Bucs picked the right receiver.
Watkins has 42 catches for 617 yards and five touchdowns in nine games. Through eight games, Evans has 39 catches for 585 yards and five TDs. Each player has had to adjust to multiple quarterbacks and deal with minor injuries. Like Evans, Watkins also has good receiving talent around him to reduce pressure on him.
Rather than feel all the agony of Bucs fandom today, Joe's taking time out to smile and appreciate the Bucs' draft-day score.
Man, it should be something if the Bucs can land a true franchise quarterback prospect to grow with Evans, who turned just 21 in April.