ASJ Apologizes For Instagram Post, Penalty
November 10th, 2014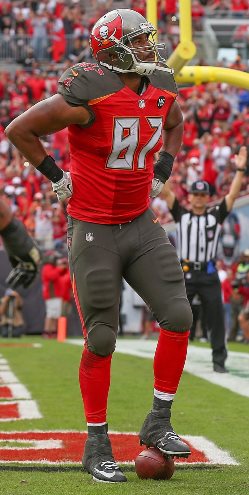 Yesterday, Bucs tight end Austin Serferian-Jenkins made a dumb move, really dumb. He put himself above the team and made a preening, conquering-warrior pose with the football after scoring a fourth quarterback touchdown.
Problem is, that is a known no-no in the NFL. You can't use the football as a prop and, per Bucs coach Lovie Smith, the rookie was advised of this previously. The flag resulted in a 15-yard penalty, helping the Dixie Chicks on their way to the game-winning drive.
What made matters worse, ASJ, seemingly oblivious to his mistake, posted a photo of his poseand bragged about the penalty on his Instagram account.
That post was later deleted after Lovie took matters into his own hands and "confronted" ASJ.
Today, ASJ apologized for his actions and admitted, lesson learned, so reports Pat Yasinskas of ESPN.com.
"It's unacceptable," Seferian-Jenkins said. "I posted a picture. I shouldn't have posted it. We're in the middle of a 1-8 season and I can see why people were upset with it for multiple reasons. The last thing I want to do is put myself in front of the team in anyway. I want to let my play do the talking and not anything after we score because, at the end of the day, we got seven points but gave them 15 yards which led to a game-winning score.

"Can't have it. Need to be more mature. But when you're in the heat of the game, you're just having fun. You're enjoying it. You work so hard and you just do something fun. That's what it was. Looking back on it, literally as soon as I got back to the sideline I knew I shouldn't have done that. It was a lapse of judgment and that's not what I want to be known for. And that's not what I want to be answering on a Monday. I do not want my coach having to answer questions about what I did after a touchdown celebration on a Monday."
Joe is glad to see this but wonders why ASJ didn't heed Lovie's words long during the game yesterday? It is starting to smell like there is a disconnect of some sort between some players and Lovie.
ASJ is one of Joe's favorite players. The guy is driven to succeed, to improve. Motivated. Did he do something stupid? Yeah. Bet it doesn't happen again. ASJ will be fine.