McCoy Regrets Blasting Teammates
November 13th, 2014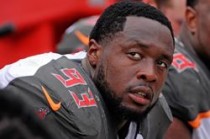 Fans love raw, emotional reactions of professional athletes. "The thrill of victory and the agony of defeat" is how they characterized it back in the day on Wide World of Sports.
Gerald McCoy talked about his emotional, Sunday rip of his teammates last night.
The Bucs' Pro Bowl defensive tackle said it was the wrong thing to do, though he didn't try and take back the words he uttered. In case you missed it, here was McCoy's postgame, quote: "I usually know what to say. At this point, guys. I don't know. I don't know anymore. I don't know. I know we're going to keep going. I don't have no answer. I really don't I'm sorry.
"We gotta be more disciplined that that. Penalties can kill you. A lot of the points in the game we were at because of penalties. Very undisciplined team. Very undisciplined team. Probably the worst I've ever been on as a collective, as a unit."
Speaking on Total Access on the WDAE-AM 620 last night, McCoy said he prefers to blame himself and the emotion of the moment got the best of him.
"That was an immediate after-game reaction. Never should happen. Never ever should do that," McCoy said. "That reaction I gave after the game this Sunday was not the reaction I should have given. That just goes to show after a game your emotions can be flying."
Again, McCoy never claimed he spoke incorrectly, only that he shouldn't have said what he said. There's a difference there.
McCoy went on to say it's not just him and Josh McCown (crying) having emotional responses. It's widespread in the locker room, McCoy said.
Just win, guys. You'll all start feeling better and thinking properly.