McCown: Offense Now More Complete
November 13th, 2014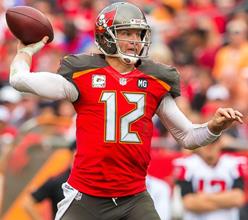 The Bucs' passing game, well, Joe holds his breath whenever Josh McCown/Mike Glennon goes back to pass. The run game? Thought the Bucs gave up on that.
Still, since he was reinstated to the starting lineup, McCown believes the offense is more complete than it has been this season.
"I felt that way during the game Sunday and part of the emotion for me was because I felt like we did everything we talked about doing," McCown said. "For me, I played the game mentally the way I wanted to play, and then to come up short at the end and have those things happen, it was just so disappointing.

"I think we are closer to that now than we've been, and none of us, certainly, envisioned that happening this late in the season, but, at the same time, when you're building something and trying to put things together, you want to see that start happening, so we feel good about doing that. Now the thing is that we have to go do it again and become consistent with it."
To be fair, Joe didn't expect McCown to come out and claim the Bucs offense couldn't hack it in the Big Ten. Still, this offense is far from complete.
The passing game is unpredictable; the towel has been thrown in on the running game since halftime of the Cleveland game. If Joe hears one more time the plug has been pulled on the running game because backup fullback Luke Stocker got hurt, he's going to jump out the window.
When the quarterback is the leading rusher, Joe dares suggest the offense is far from complete.
To hear more from McCown, click the button below. Audio courtesy of Joe's friends at WDAE-AM 620.