"Sending Lavonte David"
November 13th, 2014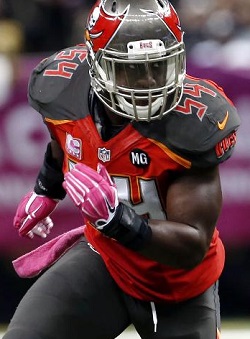 Last year, Lavonte David had a whopping seven sacks and five interceptions. That landed him the record books for a linebacker.
This year? David has a goose egg when it comes to picks and sacks. Lovie Smith is not getting the most out of him.
Yes, Joe knows David has different responsibilities in Lovie' brand of defense. David is blitzing a lot less, and playing a lot more Cover-2. But he's still not being set up as well to be the playmaker he can be. That stats bear that out.
In their Bucs-Redskins preview for CBS Sports, prickly Pete Prisco and Pat Kirwan, the former linebacker coach under Monte Kiffin, rave about David and Kirwan calls for David to be let loose to get after Robert Griffin, III, on Sunday. Kirwan says RGIII is not the runner he once was and has struggled in his limited action this season.
It will be interesting to see how the Bucs approach stopping the Redskins. The Bucs blitzed more than usual against Atlanta, but the blitzes consistently were picked up by the Falcons' second-rate offensive line.
Enjoy the Kirwan-Prisco preview below. Both also serve up final-score predictions.