Jameis Watch: "Elite NFL Player"
November 4th, 2014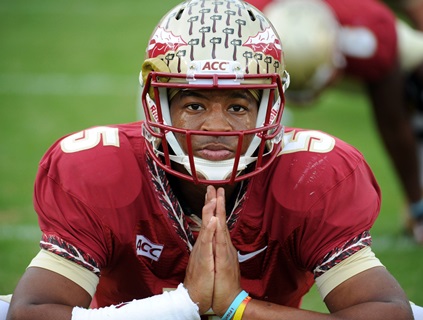 Crab-legs-stealing, BB-gun-shooting, obscenity-hollering, Heisman-Trophy-winning, national champion James Winston, the pride of Florida State University, continues to look like a much better quarterback prospect than Mike Glennon and Josh McCown.
It's Joe's regular nugget on the Jameis Watch, celebrating the best quarterback to wear No. 5 ever in the state of Florida.
How good do some think Florida State uber-quarterback Jameis Winston will be on the NFL level? One SEC honk believes Winston will be a big-time NFL quarterback.
As we all know, those in the tank for the SEC believe no one can ever play football better than a player in the SEC. Why, asks the SEC mouthpiece, would a stud player ever play for anyone else because they don't play football in those other conferences.
So it surprised Joe that CBS SEC analyst Gary Danielson, who is completely and totally in the tank for SEC teams and players, came racing Monday to prop up Winston. The former NFL quarterback made his weekly appearance with the one and only Chris "Mad Dog" Russo on the station that bears the host's name, "Mad Dog Radio," part of the family of sports channels heard exclusively on SiriusXM Radio, and spoke so highly of Winston he dared invoke Dan Marino's name.
"I think [Winston] will be an elite NFL player," Danielson boasted.
Russo was taken aback and immediately asked about Winston's notorious off-field scrapes with the law and Danielson waved them off.
"Dan Marino had the same things talked about him when he was coming out of college," Danielson said. "Teams that passed on him regretted it for 15 years."
Danielson does have a point. Marino was thought to be too much of a party hound and there were strong rumors that Marino was fond of the nose candy, an allegation he has adamantly denounced to this day. As a result, Marino, arguably the best quarterback in that draft, fell all the way to the Dolphins.
Evan his quarterback-needy, hometown Pittsburgh Steelers passed on him which did nothing but fan the flames of the rumors.